SCAR 18 Kit by SMOK
SCAR 18 Kit by SMOK
SMOK SCAR 18 Kit
1 x Scar 18 Mod
1 x TFV9 Tank (2ml)
1 x V9 Meshed Coil (0.15ohm)(pre-installed)
1 x V9 Meshed Coil (0.15ohm)
1 x USB Cable
1 x User Manual
Features
88mm(h)*54mm(w)*30.6mm(d) – SCAR18 Mod
Weights; 183.5g
0.86 Inch TFT Display
Output 1w-230w
50mm*25.5mm – TFV9 Tank
Thread 510
Tank Capacity 2ml
Weight; 65g
SMOK SCAR 18 Kit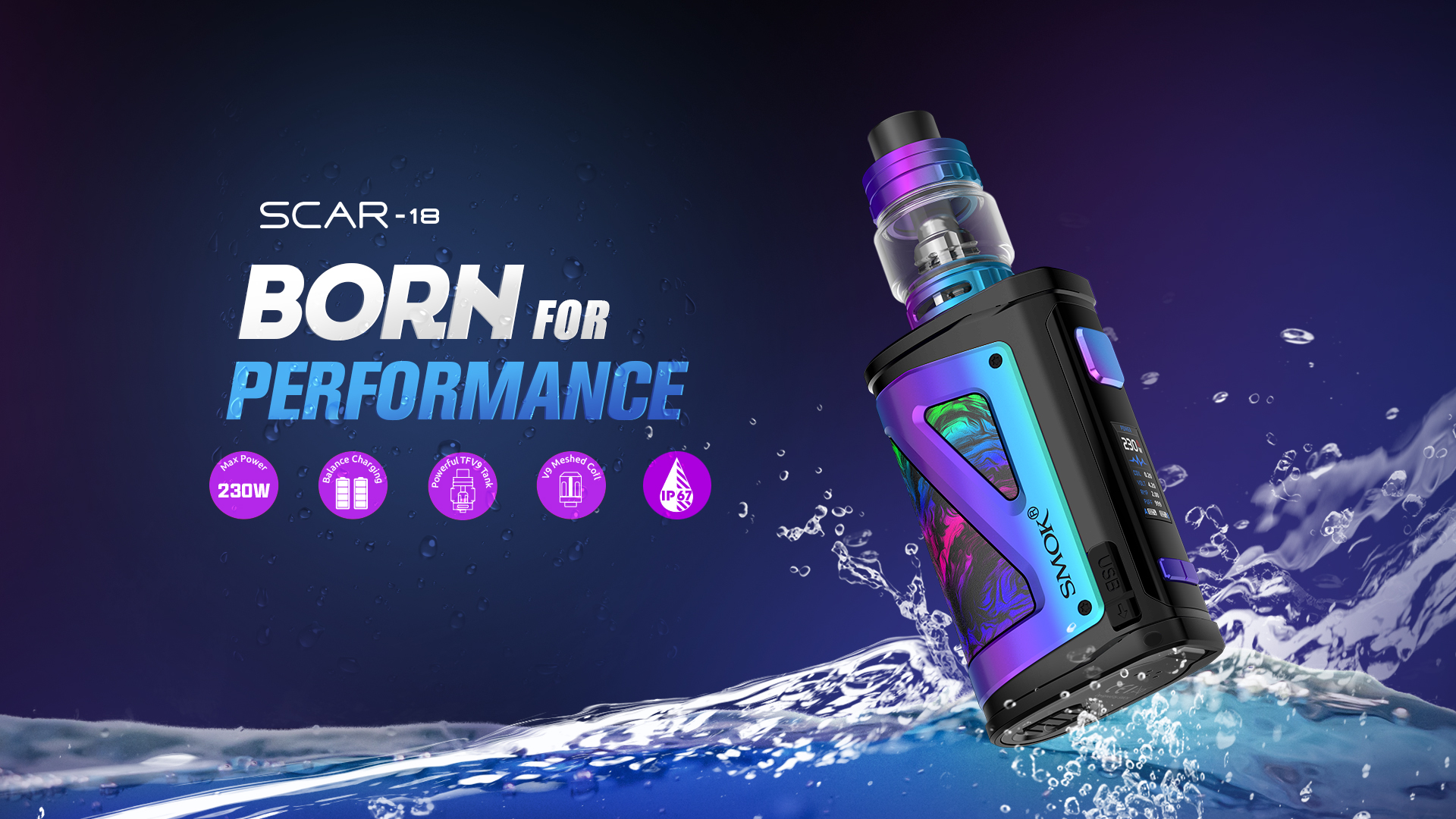 The all new SMOK SCAR 18 Kit has lit up the vaping world with its power and performance. SMOK has also included its new IQ-X chip which provides a stable and efficient output. Smok SCAR 18 Kit also requires dual 18650 battery to provide a maximum output power of 230w.
The SMOK SCAR 18 Kit has been ergonomically and aesthetically designed to be the best of the best with a stylish and sleek look, wrapped with leather and a zinc alloy frame fitting comfortably in the hand. Both the leather and zinc alloy frame forms an impenetrable armour to prevent any external damages from dropping. A new feature is also that the SCAR 18 Kit is IP67 meaning it is dust proof, shock proof and also can be immersed in water between 15cm – 1 meter for up to 30 mins. This makes this kit one of the most robust kit in the market and won't let you down when you need it.
The SCAR 18 Kit also comes with 6 protective functions; Inteligent Atomizer Recognition, Puff Monitoring System, 8 Sec Cut-Off, Short Circuit Protection, Over-Heat Protection and Low Battery Warning.
The TFV9 tank by SMOK is an all new Flavour tank, using the all new V9 Mesh coil which is made from Kanthal with a large surface area allowing it to perform the clouds that SMOK are known for. The TFV9 tank also features an easy re-fill system with a lift and slide.
Features
88mm(h)*54mm(w)*30.6mm(d) – SCAR 18 Mod
Weights; 183.5g
0.86 Inch TFT Display
Output 1w-230w
50mm*25.5mm – TFV9 Tank
Thread 510
Tank Capacity 2ml
Weight; 65g
All Smok products come with a free 1 year manufacturers warranty. Simply return the Item to Vape Lagoon with a copy of our receipt and we will do the rest.